#ShootTheCulture – HELLO AFRICA, TAFM ANNOUNCES 2023 RETURN
The Film Rats Club is pleased to announce the second edition of its film festival, The Annual Film Mischief (TAFM), which will take place in Lagos, Nigeria.
Film Rats is pleased to announce the second edition of its film festival, The Annual Film Mischief (TAFM), which will take place in Lagos, Nigeria.
Last year at its maiden edition, TAFM had amazing movies screened such as Owen Olowu's "Songs of Ubong" (Winner, TAFM Grand Cheese Prize), Reflections (Winner, Best Screenplay), The Samaritan (Winner, Audience Cheese Pick), with award-winning Chuko & Ari Esiri's "Eyimofe" opening the film festival and Paul Utomi's "Country Hard" delivering an excellent close.
While the maiden edition focused mostly on films of Nigerian descent, this year, TAFM '23 will open to films across Africa.
Here's what founder, 'Chukwu Martin, has to say about TAFM '22:
"In March 2022, we launched The Annual Film Mischief to shine the spotlight on filmmakers daring to tell stories with unique narratives and styles. This would continue to be at the core of our festival. The average African filmmaker comes from humble beginnings and though there will be limited resources, there will never be limits to creativity, hence our theme – "Less is More". It was a call to action to reach beyond financial limitations and dig into the abundant well of creativity. We had some successes to celebrate. "Yahoo+", one of the films screened at TAFM '22, went on to get nationwide theatrical distribution with moderate success at the Nigerian box office.
We brought audiences to see Owen Olowu's clever film "Songs of Ubong" which went on to win laurels at different festivals. Beyond the films, we also became a hub for networking, connecting young tech entrepreneurs in the film industry with venture capitalists. We were overwhelmed with the support from Impact Hub, Viva Cinemas, Uber, Malta Guinness, Thursday Film Series, Albantsho, RedTV and many others who worked with us to ensure the success of the festival. We are challenging ourselves to be better than the last which, of course, leads us to TAFM '23 opening to filmmakers across Africa.
It is us calling on African filmmakers, home and abroad, to reignite their passion for film and "shoot the culture!" which is this year's theme. This avant-garde edition is looking to connect African storytellers, change attitudes towards film & filmmaking and expose audiences to a larger taste of cultural experiences."
Festival co-directors, Uche Chika Elumelu and Tomi Folowosele further explained what #ShootTheCulture means and why;
"TAFM '22 was beautiful. We celebrated brilliant films with little or no budget. It was truly refreshing to see the audience enthusiastically engage with these incredible stories. We are delighted to return for another edition; celebrating film with all African filmmakers. The theme we have chosen for TAFM '23 is #ShootTheCulture. This reflects uniqueness from the African eye, encouraging filmmakers to dig deep into our culture and tell our stories; weave the most beautiful tales into colourful robes for the world to marvel at."
So, what are you waiting for, filmmakers? Grab your cameras, call your team, and get ready to #ShootTheCulture.
Festival selections will include domestic and international feature and short films. Submissions for the 2023 edition of The Annual Film Mischief will officially open November 1st, 2022, and filmmakers are encouraged to submit entries early enough through TAFM's filmfreeway page at no cost at all. Yes, TAFM is absolutely free!
TAFM is delighted to showcase the innovative minds of the next generation of Nigerian filmmakers with film screenings, Q&A sessions with creators, roundtable conversations, masterclasses, and seminars to encourage discourse and document the industry's journey and future.
MEET THE FESTIVAL TEAM
Festival Director I
Uche is an actress and producer. An alumna of University of Ibadan (BSc Geography, First Class) and New York Film Academy, Uche has built an over 10 year career on stage, radio and screen. Her notable credits include: "Onga's Mama Knows Best", "Riona", "Unbroken", "Ajoche", Accelerate TV's "Just Friends", "Long Sleeves" & "Heartbeat The Musical". Furthermore, Uche was the pioneer Project Manager for FilmRats Yellow Project for TAFM'22.
Festival Director II
Tomi is a screenwriter, actress and filmmaker. Tomi wrote, acted and produced the short film "Hours before" which screened to rave reviews at New York Flash Film Festival, Monthly Indie Shorts, Sessions by Lift-Off Global Network and The Annual Film Mischief. Tomi has written two feature length films for AfricaMagic whose productions are still in view. Tomi was also the pioneer Head of the Media, Content, and Communications for TAFM'22. She is an alumna of University of Lagos (BA Business Administration). Tomi is currently head writing her first TV series which is due out in 2023.
Festival Manager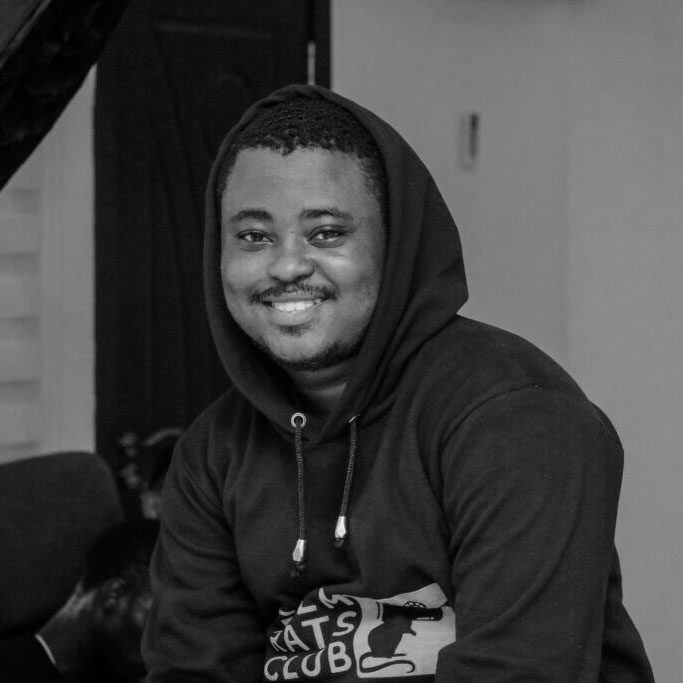 Sherif has built an over 8 year career in the Nigerian film industry as an actor, producer and Founder of Konirewa Films. Konirewa has produced over 5 short films including "The Samaritan" which won the Audience Choice (Cheese Pick) movie of TAFM '22, "Hey Stranger", "Trapped" which were admitted as official selections at Kwara Film Festival, In-short Film Festival et al and he is currently working on a feature film. Sheriff also has ample experience as an Assistant Director, Line Producer, Production Manager, Casting Director and Script Supervisor for different projects. Sherif has a BSc. (Osun State University) & MSc. and PhD in Economics (Afe Babalola University) and Diplomas in Producing from Ebonylife Creative Academy and Filmmaking from KAP Academy.
Head of Content I
Biye is a Nigerian creative art director, visual designer and illustrator. He is a multidisciplinary designer with great expertise in the designing of film posters and illustrations. Biye has built an over 7year successful career designing posters for top filmmakers such as Kayode Kasum ("Obaram", "Ile Owo", "Soole"), Tunde Kelani ("Ayinla"), Michale Omonua ("Rehearsal"), Chude Jideonwo ("Awaiting Trial"), Paul Utomi ("Country Hard"), Emma Edosio ("Otiti") and Tomi Folowosele ("Hours Before"). The "Hours Before" poster was nominated for Best Poster Design at Cannes Short Film Festival. Biye is an alumnus of Federal University, Oye, (BA theatre & Media Arts) & Federal College Education (NCE theatre and English). Biye was the pioneer Content Head for TAFM'22.
Head of Content II
Babátúndé is a director and writer who works in a variety of media, including theatre, screen, and social platforms. He works as a researcher, director, film critic, and occasional performer in addition to his other roles. He has penned and helmed a number of stage and screen productions that have won honours and acclaim at regional, national, and worldwide film festivals. He is currently the CEO of THE JOKA.NG, Content Writer at Pulse Nigeria, and the Head Writer at Arte House Studios.
Head of Media & Communications
Oladotun is a respected actor, dancer and voiceover artist. Oladotun screen credits include; "III", "Omo Atoke", "Small Talk", "Ajoche", "Knockout Blessing", "The Patriot", "Dear Diary". She's also lent her voice to radio dramas, animations and jingles. She has worked as a project coordinator for Thespian Family Theatre's Junior Theatre Festival 2014 and as Technical Director for the maiden edition of the Eko Theatre Festival. Oladotun is an alumna of Lagos State University (B.A in English),where she fell in love with the arts. She is also an alumnus of the "Acting For Screen" programme from Ebonylife Creative Academy.
Head of Publicity
Hope is a writer and filmmaker in construction. This brilliant young lady is constantly telling stories of her colourful and chaotic Nigerian roots via her blog, Black Girl. She spends her time resting and hating on semo. Hope is an alumna of Sikkim Manipal University, Accra (BA Journalism/ Mass Communications) and Multichoice Talent Factory (2021).
Festival Advisory Board
Founder/CEO Film Rats Club
'Chukwu Martin is a director, actor, producer and voice actor with credits spanning film, television and theatre. He is the Founder & CEO of Film Rats Limited, which serves to empower independent filmmakers to find education, network and develop their craft and also help film consumers to attain optimal marginal utility by developing a better palette in films. Film Rats Limited serves as a parent company of "Film Rats Club", "The Annual Film Mischief", "Cheesemonger" ( Film Rats' Press), "Mischief in Motion" (Production and documentation arm of Film Rats) and "Yara" (a film lab/ an empowerment platform for indie filmmakers). The Film Rats platform currently has a network of over 150 cinephiles across 5 clusters (Lagos Mainland, Lagos Island, Ibadan, Ilorin, Abuja) across Nigeria. Martin is an alumnus of University of Ibadan (BA & MA in Theatre/ Media Arts).
Co-Founder/Chief Operating Officer
Hafeez is a multimedia storyteller, entrepreneur and health financing expert and analyst. He has managed many successful projects across the health and entertainment industries. He has written works across film, theatre and print, winning the 2017 for best writing for his contributions to the graphic novel, "Oro". He has acted as a story consultant for the past decade for films that have won the African Movie Academy Award, Afriff Award, African Magic viewers choice Award and several accolades across international film festivals. Currently, Hafeez is the Co-Founder and Chief Operating Officer of Film Rats Limited and the Global Primary Care Manager at the Healthcare disruptor mPharma.
Festival Executive
Ojie is an executive who harmonises his background in economics, strategy, consulting (ex-PwC) and a deep passion for the arts for value creation. This combined acumen has been successfully demonstrated in an 8-year career designing, building companies/ platforms/ products across RealEstate, FinTech & Film in Africa. Further to this, Ojie was the founding Festival Manager of TAFM, where he co-led the conceptualization and execution of the festival. Ojie also serves as Adviser to Film Rats Limited and a Co-Founder of Yara. Ojie's film credits include the AMAA & AMVCA winning "Collision Course" & "Behind My Nollywood Screen" (IREP International Film Festival, Film Africa). Ojie is an alumnus of University of Hull (BA Business Economics), Leicester (MSc Finance) and has taken Strategy courses at the prestigious Lagos Business School.
Taiwo Egunjobi
Taiwo Egunjobi is a Nigerian writer and film director. He studied Psychology at the University of Ibadan. His films such as Musomania, "In Ibadan", All Na Vibes", "Crushed Roses" have been screened at prestigious festivals around the world. He's also the editor in chief at Filmkaku where he writes about African filmmaking occasionally. Taiwo was the pioneer Festival Director for TAFM'22.
Editor In Chief (Film Rats)
Isaac Ayodeji is a Nigerian filmmaker. He's written and produced films like Crushed Roses, In Ibadan, All Na Vibes and many others that have screened in festivals globally and cinemas nationwide. He also writes for TV (AM Tinsel amongst many) and is a story developer in training. He is the Editor-in-Chief for the filmrats club and also writes and edits for Filmkaku, a resource platform for African filmmaking. Isaac has a Bachelor of Physiotherapy of degree from the University of Ibadan and is very much still involved in the health sector. A lifelong student, Isaac is particular about growth and capacity building, especially in a young industry like ours.
Moses Ipadeola
Mo' is a conscious filmmaker and a multifaceted creative. with films such as _Ifá Therapy_, _Dark_(OUTSTANDING SHORT FILM, AIFF 2020) and _Fate_ under his cap. Since the flagship of his "Trado-Fiction" film genre in 2018, he has been experimenting under this genre to further tell his Afrocentric stories.
CONTACT US
For further information and enquiries, please send an e-mail to hello@filmratsclub.com or place a call to Dotun (Head of Media & Comms) on 08032599175.