King of Boys (2018): Lagos Noir, Feminism in Film and the Cinema of Excess.
by Osamudiamen Joseph
Time has a way of evolving the meaning of things.
That statement is the reason I've decided to write a series of retrospective essays on a couple of Nollywood movies released in the recent past. I've always considered movies to be not only thermometers that record and reflect the psychological, political, economic and spiritual state of a society but also thermostats which can influence greatly, the future of said society by introducing them to ideas and concepts through the most powerful means possible: visual storytelling.
Movies are like time capsules, perfectly able to capture the spirit of the age during which they're made and released. And just like time capsules, digging them up after a while can be a very interesting endeavor. The job of the critic here would not only involve discussing the quality of the film but also what it means, how that meaning is created and how it has changed over time.
Time has a way of evolving the meaning of things after all.
King of Boys was one of my favourite movies of 2018. I still remember the night my roommate and I stayed up for close to three hours to watch it. I remember how the movie held us utterly spellbound for its entire runtime. I remember how we felt when the credits rolled (hint: mindblown; we were completely mindblown). King of Boys is usually described as a political thriller but I've always felt that tag didn't quite cut it. The movie is a potluck of different things: a character study, a neo-noir, a feminist flick and an exploration of a city Chimamanda Adichie once described as "the aspirational axis where dreams will live or die."
With a runtime approaching the duration of two football matches, there's a lot to examine in King of boys. Therefore, I've decided to explore the movie from three different angles in order to get my points across effectively.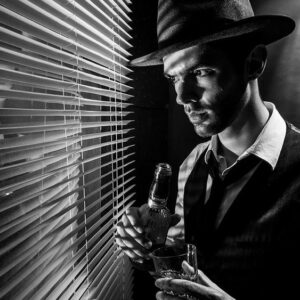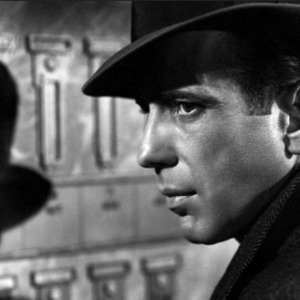 Lagos Noir
Film noir is a term used to describe Hollywood crime dramas popular during the 1940s and 1950s. The movies were usually very stylized having been influenced by the cinematography of movies made during the era of German Expressionism. The plot and tone of noir was also inspired a lot by the hardboiled crime fiction stories which were common in the United States during the Great Depression.
While film noir was characterized by a low-key, black-and-white visual hue along with the use of Dutch angles and long shadows, it also had character archetypes like the hardboiled detective, the femme fatale, the dirty cop, the Mafia or some form of crime organization and so on. The story was usually set in a large, oppressive city and the characters were all cynical and hopeless. People rarely got what they wanted and the trope of good triumphing over evil which was common in other movies at the time, wasn't a feature of early noir films.
The overall tone of noir was bleak and defeatist. The plot made use of flashbacks and flashforwards to increase the tension. Noir films also usually had a morally ambiguous theme. Movies like The Maltese Falcon (1941) and The Big Sleep (1946) are considered classic noirs while Chinatown (1974) and Taxi Driver (1976) are referred to as neo-noir.
King of Boys while featuring a number of noir tropes and archetypes, goes one step further by flipping them on their heads. In classic noir, the femme fatale is usually a stock character who smokes cigarettes, speaks in a sexy voice to seduce the private detective and adds an air of moral ambiguity to the film but in King of Boys, the femme fatale, Eniola Salami, is given center stage. Like Arthur Fleck, Walter White or Cersei Lannister before her, Eniola Salami is brutal and conniving and her empire is built on bloodshed. She is the perfect point-of-view character to lead us through both the highbrow parts of Lagos life and its dark underbelly. And she is so compelling that we almost feel sorry for her when she gets her retribution.
The first time we meet her is at her birthday party and she is beaming with smiles in the presence of the movers and shakers of Lagos. The next scene shows her murder a man in cold blood. And then without losing a beat, she asks her boys what kind of meal they'd prefer while mustering a smile. The very next day, she is giving materials to a customer free of charge, out of the goodness of her heart, and immediately after, she's cussing out a messenger in her office. These scenes introduce Eniola to the audience while at the same time shrouding her in mystery, courtesy of Kemi Adetiba's writing and Sola Sobowale's ability to chew the scenery and command the screen. Multiple flashbacks are also used, in classic noir fashion, to give us more details about the character while simultaneously ramping up the tension. Inspector Gobir is the detective with a deep sense of duty and a heart of gold who at first seems out of place in the corrupt city but turns out to be just the kind of person that a city like that needs.
In 2018, Akashic Books published Lagos Noir, an anthology of short stories by an eclectic cast of award-winning Nigerian authors— everyone from A. Igoni Barret to Nnedi Okorafor. The book was edited by Chris Abani, who claims that each one of the stories, "fully captures the essence of noir, the unsettled darkness that continues to lurk in the city's streets, alleys and waterways." The story Kemi Adetiba weaves in King of Boys would fit perfectly in that anthology.
In the introduction, Chris Abani says, "in the shadow of high-rises, behind the international money of Broad Street, the real Lagos spreads out like a map of rusting rooftops." In King of Boys those two worlds, even though they seem separate, are one and the same: connected by corruption. The gangs are controlled by Aare and other politicians at the top.  Eniola herself exists simultaneously in both worlds. Even the police and other law enforcement agencies are no different from the politicians and their thugs. They all speak the same language— money.
Perhaps the most obvious imagery that drives this point home is the fact that when Eniola and the other members of the Table meet, it is not in some fancy air-conditioned hotel in Lagos Island but in a ghetto, surrounded by poverty and shrouded in darkness.
In classic noir stories, the city itself is a character and the filmmakers endeavor to capture the essence or vibe of a place and portray it in their story.
And in Kemi Adetiba's King of Boys, Lagos comes alive in spectacular fashion.
Feminism on Film
King of Boys is an outlier, in that it was a movie written and directed by a woman, starred a middle-aged woman, and then went on to become the third highest-grossing Nollywood movie when it was released. Even in Hollywood, this is rare. The only female writer-director/actor duo that immediately comes to mind is Greta Gerwig and Saoirse Ronan who have worked together on Lady Bird (2017) and Little Women (2019).
Kemi Adetiba posted this on Instagram a few months ago and I remember being really excited when I saw it. Apparently, the duo has a project ready to go after the sequel to King of Boys is released. We can only expect great things.
There is a lot of insight to be gained from looking at king of Boys through a feminist lens. It's a story about a young girl whose childhood was filled with unspeakable horrors but who with grit and cunning (and bloodshed) managed to rise through the ranks to become a mover and shaker in Lagos. When the time comes for the powers that be to give her her due, they relegate her to the sidelines and eventually try to strip her of her power. Their reason is that she has a lot of blood on her hands but the irony is that they're the ones who have been her clients all this while. Like Eniola says to the Aare, "Is it not this same world…that you call upon whenever you need muscle." The politicians simply can't stand the fact that with her ministerial appointment, she will become too powerful to contend with or control.
Eniola is like Arthur Fleck, Walter White or Annalise Keating in that she's a character the audience is not supposed to envy but to pity. She is an anti-hero (or dare I say, a villain). When you watch the Joker, you're not necessarily putting yourself in his shoes, you're watching him from a distance. Joker is the story of Arthur Fleck's descent into madness while King of Boys chronicles Eniola's ascent (through the flashbacks) and eventual descent.
She lost her children, her money, her status and barely escaped with her life. Like Jesus said in Matthew 7:27, the floods came and the winds beat against her house and it fell. And great was the fall of it.
The last shot where Eniola peers over her cup, smiling with her eyes into the camera and straight at the audience is maybe my favorite shot in the entire movie. It's pregnant with meaning. The king will return. And you'd better be ready when she does.
The Cinema of Excess
Throughout cinema history, there have been movies that portrayed the 'excess' or debauchery that comes with gaining power or money. Whether it's the kinetic, fast-paced style of Scorsese's Goodfellas (1990) or The Wolf of Wall Street (2013), which portrayed the absurdity of American materialism or movies like Sofia Coppola's The Bling Ring (2013) and Harmony Korrine's Spring Breakers (2013). These movies that depict excess also feature drugs, sex, gambling and all their friends. Izzy Black explains it in more detail on their blog.
The way King of Boys depicts excess is by casting a critical eye on it wherever it comes up. In first scene, Eniola is celebrating her birthday with the Lagos elite (the Governor is even in attendance) but beneath all that opulence is a world of crime and corruption. Later on, we see that money meant for the people has been stashed in coffins and soakaways. Even the head of the EFCC, when Gobir confronts him, says that, "I am just a small fish in the big river of things" and "this is how the economy keeps moving".
The movie ultimately frames his claims as wrong and sides with Gobir. The excess we're seeing on screen, the opulence that looks shiny and appealing, is gotten through diverting funds and shedding blood. To engage in that kind of debauchery, you would have to sell your soul to the devil.
King of Boys' record-breaking box-office numbers showed that its messages really resonated with Nigerians. Its feminist slant, portrayal of Lagos in its duality and criticism of corruption and excess, are even more valid today than they were when it was released. Kemi Adetiba's The Wedding Party was one hell of a debut but King of Boys cemented her status as a talented visual storyteller.
The sequel to King of Boys will be released soon and like I said earlier, I can expect only great things.
Osamudiamen Joseph is not a complicated man. He loves cinema– watching it and writing about it. And whenever he is not chained to a desk, hot on the heels of a deadline, he loves to listen to neo-soul music and dance to his heart's content.
You can find him on Instagram @osamudiamenjoe