DO YOU LOVE FUNKE AKINDELE'S OMO GHETTO: THE SAGA? READ THIS
Notice the title above says Funke Akindele's Omo Ghetto even if it was directed by Abdulrasheed Bello (JJC) and Funke Akindele. I am not trying to stir gbege (trouble) in their union but it is what it is. JJC is no JJC; he is no new comer, he is not Mr SKILLZ for nothing, it is evident in the films ambitious vision which they both should share credit for. But I can say that people swam into the cinema halls, damning social distancing, risking it all to get a seat for the Superwoman Funke Akindele and her band of misfits.
Funke is a beast and she shows us she can also be Beauty. I've not seen the prequels before this film so I'm writing dependently on this film.
The opening sequence and the consistent motif of character reveals give a sense of directorial understanding. From when we see Lefty (Funke Akindele) in the opening, the conflict sets in and rises to reveal more colourful characters in the street game of drugs and gangsterism. Lefty is the "King of Boys" on these streets, a motherfucker (as she's often seen to do her worried mother over) and an icon of philanthropy to the never-do-wells on the street. Lefty's opening dialogue with the boy hoarding drugs reveal her to be a rebel with a cause – she puts it in – children are not supposed to be roped in this kind of business. It's not far-fetched, Funke loves the social commentary. She was probably initiated into the style from her days as Bisi in the United Nations Population Fund sponsored Tv series "I Need To Know." (1997-2002).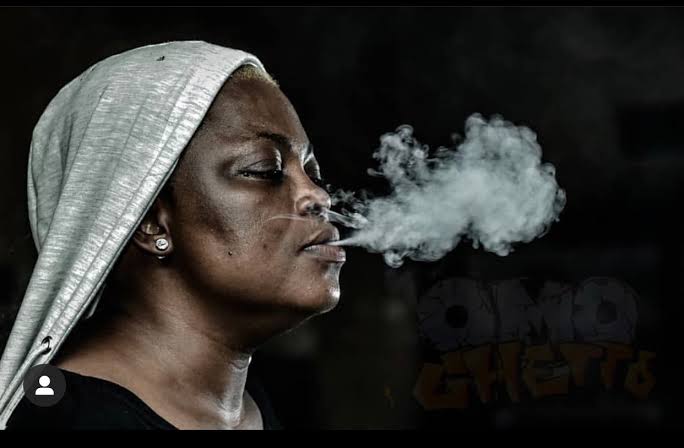 Funke Akindele gathers stars from East to West, Nigeria, a commercially intelligent move that incites your curiosity to see these people perform together. It's simple – Funke Akindele enticed a certain geographic – the marlians – the street – the edgy – the rebels. It was the word on the street. I saw this film in Ibadan and the crowd was crazy. Inside the viewing hall, I had caught some persons fall asleep, one man behind me was almost snoring mouth wide open I was tempted to throw popcorn inside his mouth. I don't blame him, the film for most part was tiring, but people laughed, they enjoyed the slangs and the redefined colours on the street made so by costume and production design. They enjoyed the skits. They enjoyed Eniola Badmus' cowardice. They enjoyed Chioma Akpotha's stronghead. They enjoyed Akah Nnani's weed cruise. They enjoyed Zubby Michael's fashion and Ibo boy vibe. They enjoyed Funke Akindele's heartfelt ruggedness. They enjoyed the action scenes even though I found them somewhat tacky, but the audience loved them. The laughter was contagious.
I got out of the cinema that night feeling confused of what to write about this film as I saw the beaming smiles of satisfaction. I got weak in the knees about calling this film a cinematic failure. That it would not stand the test of time. That the story roamed a lot. But who would care? Definitely not those on the street, not these marlians, these no-belt-seat-belt generation. I got around to ask some persons who had seen the film with me what they really thought about the film and a few of them barely spoke out of spirited enthusiasm while others spoke in rapid praise of their favourite scenes and character actions. That was the charmer. The film answers the needs of a people starved of laughter and will only inch closer to breaking box office records.
Nollywood has made and will continue to make films in thousands and any film can now get into the cinema – we've seen them, many of them TV films and collection of skits. We have undermined the integrity of Cinema and refused to acknowledge the language of its birth. The few films that have tried to acknowledge this in our cinemas have struggled to attract the needed crowd, only to later find appreciation in certain film festivals and platforms worthy of their titles. But maybe that is what and who we are – rebels. Rebels like Funke. Rebels do things differently and this engineers ingenious attitudes and styles but rebels must at best learn the rules better than those who have made them, they must become experts at these rules and break them creatively. Will Directors Funke Akindele and JJC learn to be better rebels and be more intentional and consistent about their films and the worlds they create? There is a chance; I did catch glimpses of intentionality with Omo Ghetto: The Saga, with the directors making efforts to transport words into powerful images, aligning with the succinct definition of cinema as the art of moving words.
By the way, I tried to find that sleeping man, but he was nowhere to be found, maybe he was still sleeping.